Previous Post:
Hammer Time
&nbsp Next Post:
PERSONAL QUESTIONS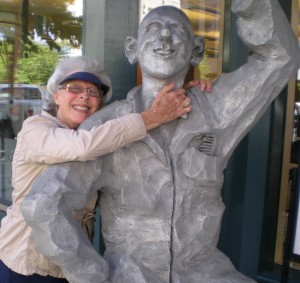 Dear Diary,
This is how my day starts out. I walk through the faux bookcase door over at Happy Daze Assisted Living..making SURE to not smack some lowly resident in the face because the sign posted on the wall TELLS me not to.
PLEASE DO NOT SWING THE DOOR OPEN (in your great UNBRIDLED ENTHUSIASM to see your family member with DEMENTIA) IN AN ABRUPT FASHION.
There is also the OTHER sign taped below that one..
PLEASE MAKE SURE YOU DON'T LET OUT ANY OF THE FOLLOWING PEOPLE WHO WILL TRY AND CON YOU into believing they have some shopping RETURNS to do over at NORDSTROM.
In really teensy tiny print you can make out a single name.. R-u'm-a-e (My MIL)
Oh. COME ONNNNNN. Is THAT fair? I've seen Blanche.. no less then umpteen times, tailgate some innocent and unsuspecting visitors out of this very bookcase. "Oh look.. a sign!", they say. Then turn to check out a certain SOMEONE behind them.  Blanche is tricky, because she pulls off quasi NORMAL with, "Nice day we're having." But then goes and screws it all up with the telltale "DO you come to Paris often?" Needs work Blanchie.
"GUESS what? Guess WHHHHHHAAAT?"
Huh? Walking at a trollop gallop towards me wearing her very special occasion designer hoochie tank under a sheer ruffled blouse with just a hint of color brought about by the multi colored asymmetrical and so LAST years.. MACARONI necklace, was my Ru'Mae. I'M SORRY but NO way am I going to even attempt to GUESS WHAT. I've played your game before and it's MUCH better for YOU to tell me rather then for ME to guess. I might throw out something totally inappropriate and wrong.. putting ideas in your head where they most certainly DO NOT belong.
"Do I look stupid enough to fall for this (again) granny?" I should think NOT. Hmpf.
Oh. Wait. I see that somebody over at the fish tank is raising her hand. Faye? Do YOU have something to say? "I THINK you look stupid."
Thank you Faye.
Ru tells me all blushing with (crème formula) girlish excitement.. that she's going out with her FRIENDS to the CLUB. Dancing. Cue the visuals please. K. Stop them. Plus.. there are going to be young FELLAS. No way. Wayyyyy. I casually ask— to avoid rousing suspicion, if the plans include bringing Faye? Remembering all too well the last time Faye went out to a public place. I was told by a very reliable spy (Lilly from downstairs) that she saw Faye at a restaurant.. STAND UP on the table and yell,
"I WANT a man and I want him NOW."
Holy Mother Plucker. What was she gonna DO with him once she got him? The bigger question of course was..how the heck did she get down from that table?
AS everyone began to arrive and line up, Ru and I stood in the middle of the hallway off to the side practicing potential dance moves fresh off of MTV's Video Music Awards. This is where we run into problems. How do I tell granny that Lady Gaga can get away with "steps" that MUST not be attempted by an 82-year-old woman. Not ever. She says she might like to "experiment" with maybe something like this (grabbing privates). I..always being placed in the position of BAD guy and party pooper have to be the one to let her down gently.
REALLY granny. I don't have a problem with that.. but someone MIGHT think you have to go to the bathroom and wisk you away. Then Marion is in prime position to swoop in and steal your man. (Ruth interjecting complaint here.) What did you say? I don't care what Madonna DOES. Are YOU.. Madonna?
Through the bookcase they march (wheel, shuffle, meander) to the elevator and seriously..I have never seen so many well coiffed heads in my life. How did they get those hairpieces into those amazing styles? Look at that pretty girl.. in the upswept Marilyn Manson. Absolutely stunning.. and her GOWN. Phew. I particularly love what they did with all that FLANNEL ruching under the bust. Hey Nan.. Does it just come with the doggies on it or did they show it with bunnies? EVEN..OMG has a matching TERRY ROBE.
RU: (sigh) I WISH I had worn MY long gown. I don't remember what I did with it. Did YOU take it?
Yeah Ru. Sure I did. I thought I'd surprise my husband (YOUR son) by.. showing up in his MOTHERS nightie. SUCH Hotness.
When we finally got to the club.. I have to admit it wasn't EXACTLY what I had imagined.
A. There was no DISCO ball. You HAVE to have the ball otherwise you might as well be hanging out in an old smelly recreation center with all the LIGHTS turned ON so you can actually SEE how pathetic your CLUB really is.
B. The music choice was lame. The speakers were blasting Engelbert Humperdinck's "AFTER THE LOVIN' "and granny was trying to VOGUE to that..and it wasn't working.
C. There were no men. CRIPES. My MIL is going to peeved beyond belief.
As luck would have it there was ONE guy pushing a broom on the basketball court next door and granny snagged him. Sorry ladies. His dance card is filled. Faye! Yo! Get OFF of that table NOW.
Rock on.
A
Copyright © 2009 My Sandwich Generation. All rights reserved.