Previous Post:
Don't Drive Them Crazy
&nbsp Next Post:
HELP WANTED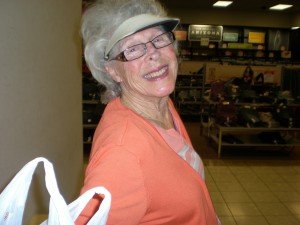 Dear Diary,
Even now..I'm scolding myself for letting my guard down and opening my big mouth to utter the unspeakable, into the ears (seldom functioning) of my MIL Ruth (dementia). There we were. Happily shopping our way through rounder's of polyester, beige, elasticized waisted pants over at "SAKS" (J.C Penny). Just chewing the fat.. One minute we were all laughing and exhibiting gaiety, "Did you see Thelma's HAIR yesterday? Heh heh heh. Looks like she borrowed Harry's piece.. again." Then..the very next thing I remember.. is watching in horror as the words come spilling from my mouth in one verbal puke. I was distracted. Not thinking clearly. They just flew OUT..
"Where are the FOURTEEN'S?"
"AAAACCCCK. What did you say?" Came the startled cries from my MIL.
"Who wears a FOURTEEN? I think you're wayyyyy off. I've never worn a fourteen in my life."
What do I do? OMG. She heard that? pfleh. Naaaaaah.
I looked at her and I could see her dementia increasing by the second. Her head started spinning and her eyes began to bug out of the sockets. People.. I had a SITUATION on my hands and I knew a quick recovery was my only hope.
"Nooooo. Didn't I tell YOU? (Slapping forehead to indicate idiocy). You're STILL a size 4. It's just that they cut pants 10 sizes SMALLER then they did..in 1945."
Ah HA. This makes PERFECT sense.
"Phew. Because you SCARED me there darling (small relieved, titter) hee hee hee. I knew there could be NO. WAY. You've always been the big one in the family."
Oh sure.. come after ME why don't ya? Feel better?
From time to time..I got this kind of TSUNAMI of inspiration—that caries me away to the land of all possibilities. Where I then proceed to do very rash and pathetically stupid things like.. taking my MIL back to school shopping. It was somewhat selfishly motivated but I was really getting tired of her hair looking like Don Kings twin sister. WE have a reputation to uphold over at Happy Daze Assisted Living.  Fact. Ruth has been voted for 3 years and counting, "The girl most likely to land a DEPENDS commercial" or at the very least.. a spot for Life Alert.. "Help! Help! I've fallen and I can't get up." Gawddd how we've practiced those lines.
Ruth's known far and wide.. on ROAM (dementia floor, Rooms 112-358) for her amazing (and I might add..photogenic) previously high cheekbones, knock out figure, and amazing wardrobe. People bow (trip) in her presence she is so spectacular in appearance. But..sadly, there is always ANOTHER waiting to swipe her title (and date) away if negligence ensues. Hey. This is the REAL world. If you don't keep up with the personal maintenance..some other girl like Doris will slide right in and better you with her new blue highlighted asymmetrical hair cut, denim leggings and a stylish boyfriend blazer (YOUR boyfriends) over her flannel pajama top. I can't let that happen. Now can I?
Once the shopping was done it was time to focus on the fro. In we marched..arm in arm to see our dear friend Tessa. I gave up on the male hairdressers because it was becoming virtually impossible to have Ruth look straight ahead while in the chair.
"Ruth darling. I'm going to need you to look up for me now..so I can cut the back straight."
RUTH (big goofy grin spreading across face)  Ohhhhh. You're S-T-R-A-I-G-H-T?(thinking to herself and nibbling on lower lip) Hmmmmm..
ME (whispering): Stop looking at his butt and look UP will ya? You can do that on your OWN time.
Nope. Didn't work well AT.ALL. Now we use Tessa and I'm giving directions so that we can achieve the perfect look that screams, "I may have Alzheimer's..but I still have SOMETHIN' going on." Not sure w-h-a-t…but..somethin'.
"Can you take it up an inch or two in the back? Then maybe layer it.."
RUTH: Like THAT. Can you do it like that? (Pointing to a 25 year old Kim Kardashian look alike.) I think we look alike.. don't you?
Exactly. Could be sisters.
My Sandwich Generation friends..it's amazing how our seniors see themselves. Not as they ARE..but how they WERE. What you don't want to do is shock them. Never tell your senior their true age or weight (pant size, shirt size.. bra size) This could bring on a massive coronary, which is hardly ever worth it. Aim ten to twenty years younger and five to ten sizes less and adjust according to the reaction. The most important lesson for us..the eldercare sandwiched masses, is at the end of the day—how our family member FEELS they look is so much more important than how they actually look. What a pile.. Keep them looking nice on the outside.. to match how they feel on the inside. You're the one who has to see..REALITY.
Lookin' good.
A
Copyright © 2009 My Sandwich Generation. All rights reserved.