Previous Post:
Bikini Ready
&nbsp Next Post:
Hair Today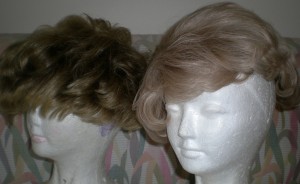 Dear Diary,
Never underestimate the power of hair. It yields power far beyond the comprehension of our species. Even in the chimpanzee family..never mind how homely they are, they go to great lengths to make sure that they don't leave their tree unless meticulously groomed and presentable to other jungle inhabitant's. Who needs the flat irons and styling mousse? The right "look" can be accomplished in minutes.. although, judging from the results, maybe they need to re-evaluate the use of saliva as styling gel. Why then does it take so much time to keep Ruth and her "coif" camera ready?
Every Wednesday, like clockwork, Ruth and I get ready to enjoy an intensive "day of beauty". We've had numerous dalliances with hairdressers over the years and have been recently "on break" with Michael, so we are feeling slightly delicate about beginning a new relationship when we're so raw. But, because hair plays such a big PART in how we feel about ourselves, we move on. Today Ruth and her humble side-kick…moi…will check out Trent (his skills!!!) and feel out whether he posses the qualities we look for in a hair designer. Trent will need to:
A. Be a good flirt–VERY important if he is to obtain high marks with Ruth
B. Have a kind and gentle demeanor. i.e. help her to her seat (it's my job to make sure she gets her legs over that PAAATHETIC "seat raise" foot bar)
C. Compliments heavily and responds with "NOOOO!! GET OUT!" when she tells him she is 92yrs.(She's actually 82yrs. but 92yrs. gets a much bigger reaction).
D. Above all else…he must be nice to the help…me!
We broke it off with our last man Michael, in case you're wondering, because he basically leveled Eldercare Abuse charges at me for much too much "infrequent trims". I got lectured every time I brought Ruth in and no matter how many times I explained the fact that Ruth has Dementia and some days it's very stressful for her to sit for long periods of time or remember WHY she has to sit at all… Our boy responds:
Michael: Well than I'll have her stand
Me: Oh, she'll stand all right…
(Adrienne grabs Ruth's hand and exits in huff and puff stage right, music fades, curtain falls.)
Trent turns out to be a dear and now we're all dating. You know how it is in the early stage of a relationship… we're all giddy, flushed and full of hope for the future. Great hair too! Ruth can't wait for next week…definitely gives her something to look forward to…for the next five minutes, until she forgets. Girlfriends of My Sandwich Generation take note, hair is always very important no matter what stage of life you are in. Play hairdresser at home or go out to "Chop and Crop" to give mom some added pampering and help her to feel like a million bucks (without the grand expenditure). Little touches go a long way and when Mom feels great WE feel great (naturally, I would feel better if it were ME sitting in the chair). What ev-er!
On the other hand Grandma Marnie is very low maintenance. What makes her low maintenance? She wears a hair piece and she loves it sooo much she even named it…"Susie". L-O-V-E that Susie…how can I not? She only needs a good hose down tri- yearly, a nightly comb out by granny, and a few pins to hold her down and BAM! Out we go to the awaiting Bridge Game in minutes. Susie is the third in a line of other, lesser evolved hair pieces. First Bertha (may she R.I.P) Amy (still hanging in there, but starting to show her age) and Susie who has many, many good years left in her so Marnie can be covered until she's 100yrs .
Remember girls.. when writing your medical directives always include an addendum entitled "Grooming A-Z" and make sure your wishes are clearly represented. Plucked? Waxed? Piece or no piece?
Peace!
A