Previous Post:
Saving Face
&nbsp Next Post:
Facts of Life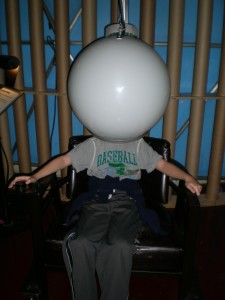 Dear Diary,
The fun thing about eldercare is that you really get to expand your horizons in ways you never dreamed of. In the MANY years I have spent as advocate/caregiver for my MIL Ruth (in all of her dementia splendor) and Granny Marnie (electric scooter riding adrenalin junkie) I have found myself in the position of wearing numerous types of hats almost daily. Doctor, lawyer, therapist, matchmaker, spy..you name it..I've done it. Even the hats you didn't name because we're in mixed company. I've worn THEM too. Because I'm one part thrill seeker and one part clueless..I'll try on anything—at least once. Well.. with ONE exception. Ruth's white FLOPPY, fake fruited, Chiquita Banana girl beach hat. Sorry. NO. I refused to "model" it for her even though she begged and offered me all the stolen free, green foiled mints, she had shoved into her coat pocket over the months. Forget. That. Being that my objective is to ensure a quality of life that is "over the top thrilling" for Ruth and Marnie, I just place my head in to awaiting head covering and miraculously..KA-POW. Presto change-o. I become whatever skill sets they need and enjoy the thrill of on the job training to boot.
Some of the hats I have to put on regularly:
1. Skull Cap: Ethics
Relationship Counseling: Anything having to do with dating, men, marriage, etc. And dating married men with etc.
Marriage Counseling (Marnie): How best to negotiate so it's a win win during arguments dealing with- thermostat variations (she wants it cold 75 degrees, he wants it warm..90 degrees), food preferences (she likes her food and drink..real, he likes his food and drink in neon colors) and in the bedroom (HE never wants to leave the bed..EWWWWW. You're my GRANNY.)
"All he does is sleep." Phewwww.
2. Scrubs Cap: Medical
Gastroenterology: Treating constipation issues, hemorrhoid complaints, prune over doses, off gassing problems, regularity disorders.
Urology: Diagnosis (because crazy mood swings and table dancing won't be cause for alarm with the Happy Daze Assisted Living staff I can count on THAT). Collections (Oh..you think your going to "find someone ELSE" to get it for you. NOT in this life.) Delivery (transport of precious cargo to "real" doctors office for testing to confirm what you ALREADY know.. but now need to pay $150 to confirm.)
Dermatology: Ability to spot "pre-cancerous trouble" and then cover-up by telling her..she's going to the spa to get BOTOX injections while driving her to "real" dermatologists office to get moles frozen off.
3. Knit Beenie Cup Cap: Athletic Supporter
Leading Chai Tea Class: Slow, Soothing movements for those that like to eat (scones) and drink (mochas) while they exercise.
Teaching Cardio Class: Get the heart pumping while sitting on your bootie lifting your arms up and down to the soothing sounds of Lady GaGa singing Love Game.
Happy Hands: Wrist turns and finger thrusts are all a part of keeping the digits flexible. Because you never know when you might need to use the old "bird finger".
4. Dunce Cap:
Data not available at this time.
My Sandwich Generation friends, it doesn't matter that you might not have attended Medical School, Beauty School, Psychiatric School, Geriatric School, Driving Sch…Nooot so f-a-s-t. That one you DO need. When some "little" issue arises it doesn't matter that you haven't read it yet in your eldercare manual (as if). Count to three and jump right in..just make sure your helmet's on tightly. My guess is that your hair may suffer but your senior sure won't.
Here's to helmet head!
A
Copyright © 2009 My Sandwich Generation. All rights reserve