Previous Post:
Cleaning Girl
&nbsp Next Post:
Sugar-Free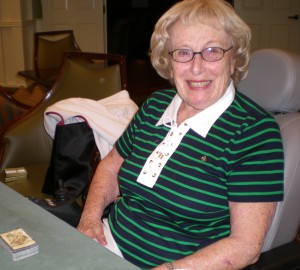 Dear Diary,
It never ceases to astound me what us girls do in the name of beauty. Even when we're into our eighties like my MIL Ruth or nineties like my granny Marnie we still manage to cover all of our beauty bases just "in case". Show of hands please from my  MSG girlfriends whose Mothers, Grandmothers, or other "senior" mother figures have issued clear warnings on the topic of present ability in the case of catastrophic circumstance. We have been told none too subtly that whatever our "emergency" it will assuredly take a turn for the worst if we are found to be lacking proper "foundation" pieces (Victoria's Secret thongs. OUT.) and heaven forbid we've forgotten to wax and pluck.
I like to visit Granny Marnie in the earlier hours of the day over at KillJoy Assisted Living- "if it hasn't been done we'll do it to you." A few knocks at her door and I realize that I'm just wasting arm power and turn to the uber bell to dong my arrival. I can hear Marnie in her electric scooter race down the entry. Not because I possess some "super hearing" but because she's revving the scooter power and is heading full throttle towards the front door like the reckless driver that she is. Nothing like the feel of the wind blowing through your hairpiece to bring out the road warrior in a girl. Marnie throws open the door with a big smile on her lips and her eyes.. A look of wild shock and terror? Huh? As I lean in for the kiss and pat, I notice that the look of fright has not left her face. What is it? W H A T is it?
DING. DING. DING. Her e-y-e-b-r-o-w-s.
Her mouth is saying I'm delighted to see you and her eyebrows are screaming "Holy Mother Plucker! Take one step more and I'll scream so loud you'll lose all hearing (too)."
I'm scrutinizing her face assessing with wonder the shoddy workmanship of the dark brown eyebrow pencil heavy handedly applied to resemble a cross between Cruella De Vil and Joan Crawford. On her fair colored, almost non-existent brows, this isn't the best look for her I can tell you. Of course now I'm completely ignoring Granny's rundown on her constipation woes and can think of nothing but how I'm going to delicately weave this into our morning conversation and remedy the situation before she naively leaves the room and causes unnecessary terror in the halls of KillJoy.
ME: What's the plan with that constipation Marnie?
MARNIE: Oh. I'm just going to stay around here for a while. Drink four cups of water and finish the rest of those prunes. (Pointing to COSTCO size Prune container on kitchen counter.) How are you? What cha looking at dear?
ME (Planning the time frame for my visit and Prune consumption): Just you Marnie. How beautiful you are. How you always look so well put together?
(Pause)
ME: Hmmm.. O M G! Who did THAT to you? I want names.
So— maybe not so subtle. But they were heinous. I swear. I could not help myself.
Marnie and I went back into the bathroom and I began to wipe dreaded "slasher brows" off with Lubriderm lotion. I love to play make-up artist. I'm pretty good. Just ask Ruth. She'll tell you how good I am at plucking, drawing, shading and highlighting. Because Ruth has dementia you'll have to ask the question like this to spark her memory:
YOU: "Wow. Adrienne does such a fab job on your make-up. It's so natural and brings out your amazing beauty—that make-up that Adrienne does on you. Who does your make-up?"
I have Marnie sit really still while I make nice feathery strokes along the brow bone. The key here is light and eas.. OOPS.
"I'm not loving this Marnie. It looks like one brow is about two inches higher than the other. I need to try again."
Marnie is the best model an artist could ask for. She lets me apply and remove brows for a good thirty minutes without moving a muscle. Then she needed to start working on the "other" issue so I had to pick up the pace. I finally hit one out of the park. They looked so amazing; perfectly symmetrical and very natural. When I stepped back to look at the final picture I thought she looked good. Maybe a tiny bit. Constipated. Ugh. What are you gonna do? Great lipstick.
Granny Marnie and Ruth wanted me to pass on to My Sandwich Generation girlfriends the importance of being well groomed at all times hence showing that "YOU" take care of yourselves. "Putting lipstick on should be as automatic as blinking." Proclaims my MIL Ruth. "Then if you have dementia once in awhile like me, you'll look presentable and attractive and won't have to give it another thought." Marnie concurs. "Put on your make-up after your hairpiece. Then it becomes your regular routine. You won't ever want to miss a day and put it off. Because then..BAM! That will be the ONE-day that something happens. That's how it works. You will have forgotten to put on your face and THEN who will want to rescue you?
What are you wearing under there?
A