Previous Post:
Chronicles of Marnielah: Or.. BLEEP! Marnie's UNCENSORED
&nbsp Next Post:
Picture of the DAY: Russian Roulette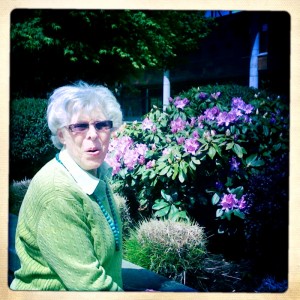 Dear Diary,
I'm not going to sit here, looking you in the.. whatever I'm currently looking at you IN and tell you, I DID NOT tell my MIL Ru that I was Cindy Crawford this morning. Ummmm after she couldn't quite place me when I went to visit up on the ROAM (Random Occasional Accidental Memory) floor. That would be dishonest and a bold faced lie. I figured WTH.. Really? Would it be so bad if I got to choose my own moniker for once? You know.. better MY choice instead of Ru polling every Tom, Dick and Marion to hear who THEY think I am. "Excuse me? Do you know who this is?" Then Marion squints her eyes pretending to SEE, before launching into this whole story about watching me on that TV program about New York and housewives and that I fight with everyone and you have to watch me like a hawk around Bethenny because I'm sure to say SOMETHING derogatory and drag RU into it.
You're wrong. I'm Cindy Crawford.
I know and now I'm so ashamed OK? It flew out of my mouth. It's not like I go around telling people with dementia that I'm Cindy Crawford every day. Tell her it's ME and I promise you, she'd be in your FACE in a heartbeat..
"I don't THINK so. Myyyyyy DIL would N-E-V-E-R wear such an ugly GAP paisley print in that ATROCIOUS lavenderish color. Besides she's still on MAUI enjoying her vacation (and getting drunk on pretend Melon Balls)."
"WHO are you?"
Come again. W-H-O? Like for real? Only the world's hottest super model THAT'S who. I picked, HER.. my lovely forgetful MIL, because it seemed like the obvious.. choice. Pfffft.
Then Ru stops and has to digest this splendid morsel of bull shwank before the very appropriate and well deserved reply,
"You don't LOOK like a super model?"
I was having NONE of that on MY special day to pick who I wanted to be. Suddenly someone with DEMENTIA is going to pee on my bull? HALLE no. And so I threw my shoulders back and sucked in my cheeks to make myself look (like an exotic PUFFER fish) SVELTE.. while doing a little flippy thing with my hair. That's when Ru lets out this shriek of recognition..
"OH MY GAWD.. I can't believe it."
SQUEEEEEE!!!! Ru knows who I am. She's BACK bay-beeee. Dementia.. bite me.
"PHIL'S sitting by himself. Get out of my way.. Cindy Brady."
The weird thing is, Ru has this annoying tendency to snap in and out of dementia.. almost AT WILL. Or PHIL. But I, who have now decided to launch into an informal fashion show by strutting around the room and introducing myself as the face of VOGUE.. could be so easily forgotten.
I could see Ru struggle as she stood in the middle of that dining hall, weighing heavily which piece of news she should attempt to tackle first. The announcement that the fake REAL Phil Donahue look-alike was now totally up for grabs (being that he was on BREAK from Selma) for the next girl in line (her).. Or the coat I was showing (and falsely advertising as Burberry) could be had at 50% off retail price.
Ru headed straight for Mr. Donahue.
My Sandwich Generation— as hard as it is to have your senior forget who you are.. remember (after you're done freaking OUT), the whole reinventing of yourself can be so liberating. I know one lady Lorna, who had a horrific relationship with her father BEFORE he totally forget who she was and then it was like.. BAM! She shows up one day and he's introducing her around with, "Have you all met my favorite daughter Betty. She's always been number one to me." Imagine how SATISFYING that must have been for Lorna, to now get the opportunity to be the kiss-up OTHER sister. NOW.. SHE gets a turn to have the relationship with her father that she NEVER could have.. BEFORE (that beeotch sister poisoned the well) DEMENTIA. Sigh. Such a happy ending. Remember— Cuz someone has to.. the silver lining.
-A
Copyright © 2009-2010 My Sandwich Generation. All rights reserved.