Previous Post:
Made a PASS
&nbsp Next Post:
Something UP her.. sleeve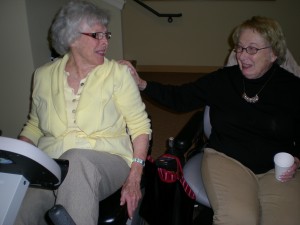 You know what this is? This is a JOKE that's what it is. Granny Marnie was hired to be my MIL Ru's workout coach instead of ME because Ru INSISTED she'd do better with someone who could inspire her to work hard and accomplish her goals. Instead of.. let's say, a coach who shouts, "OK. It's time for your first quickfire temptation challenge" then goes and dangles some sumptuous, amazing (still warm) cheese danish (taken off the free cookies and tea room platter) in front of her face all, "HEY granny— slow down for a sec. YOU want a piece of this.. cuz I can't eat the whole thing."
Please note.. I only did it to TEST "team dementia's" willpower and see if she wants this weight loss more then anything. Unfortunately for Ru she's not a game player and I get blamed by her new COACH for adding a two pound penalty on to her weigh-in after she eats the whole thing.. and sends me back for the cherry one.