Previous Post:
MORE THAN A HANDFUL
&nbsp Next Post:
A List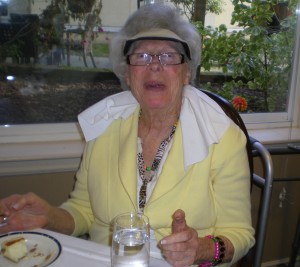 My MIL Ru (dementia) is known far and wide for her amazing style sense and ability to trendset like nobody's business. I was just SLIGHTLY (just to be different) CONFUSED by some her accessory choices today and begged for some cheesecake CLARIFICATION. Why we were putting the linen napkin around our NECK as opposed to maybe a little something a bit more..Oh, I don't know.. OLD SCHOOL. Like a scarf? It's just that the look is BUSY enough— with the hot pink hand painted macaroni tennis bracelet and the TIGER (NOT going there) trimmed tee, with the plastic strand of beads. Overkill with the neck wipe granny.
Ru explained it all, so that it made perfect sense, as it usually does. Here we are in this festive holiday season on a beautiful SPRING (Close. Enough.) day and there's still a NIP lingering in the air and she got COLD.
Phew. Good to know THAT'S the reason.
Why walk allllll the wayyyy back to her room, get there, forget what she was looking for and walk allll the way back empty handed.. running the risk that her CHEESECAKE might be lifted in the process.. when there was a perfectly good WRAP laying right there at the lunch table for her to finesse into a neck warmer? I would say THAT was pretty RESOURCEFUL thinking. If I was stranded on a deserted island and could pick one person to be there with.. I would SO choose YOU Ru.