Previous Post:
ROAM-E-O
&nbsp Next Post:
Next Post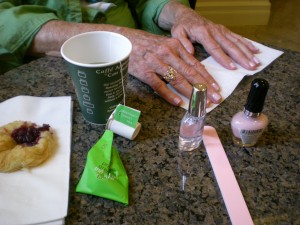 Dear Diary,
It is a well know FACT that women like my MIL Ruth (dementia) don't just use their manicurist to get their chipped, bitten, hangnail ridden paws beautified (although that's a nice perk). The real satisfaction comes from the huge relief that the woman feels from spilling her guts (or whatever she's able to recall of her guts) to a well trained PROFESSIONAL. This soul barfing involves, the sharing of deep secret feelings (Ruth actually LIKED the unstructured hooch sheer blouse that I was forced to hide) and life "experiences" (all the good ones are Married or Dead) with the beauty licensed individual in IMPLIED confidentiality (wink wink).. who THEN— does a FULL professional analysis and helps guide you in possible appropriate actions..for as long as it takes to arrive at them..
Or until the topcoat gets dry.
Then it's on to the next patient (client)..who will press for a blow-by-blow account of every little juicy detail of the plight of the distressed old dear that came before. All that AND the added joy of knowing that for about the same cost as seeing a real counselor (depending of course on whether you get served tea and cookies in your nail therapy session) she's receiving fab nails and great advice from an almost real certified shrink. Doesn't GET much better than THAT.
Don't you think that insurance should cover mani-pedi's? First we had to break ground with some alternative treatment options like ACUPUNCTURE and Feng Shui..next it will be nails and waxing. Mark. My. Words. Sooooo much benefit..and healing.. for the masses.
In Ruth walks.. two minutes shy of  her 12:15 p.m. manicure appointment down on the main floor of Happy Daze Assisted Living. Scruffy nailed, chipped and worn down from a hard week of eating, drinking and partying on floor ROAM (Alzheimer's). Ruth shuffles in at lightening speed..eager to get to the nail station and begin her treatment. She's greeted by an adorable, personable, intelligent, size 2 Feh..SIZE 6 girl..who couldn't have been a day over 25 ummm..over 35.
And did I mention t-h-i-n?
ME: O.K. So.. come sit over here Madame (pointing to the table covered in paper towels). I have set up a perfect little nook in which to do your nails today.
"Why thank you." Ruth Mae (or may NOT) says— as I guide her over to the VIEW table (hottie construction men across the street.. shirtless.. shweeeeet) that I have set up to resemble Salon She She Poo Poo..almost EXACTLY. I assembled a nice little selection along the window ledge of maybe four or five bottles of the same color.. OPI Almost Virgin pink and one bottle of white for custom design work. Why no variety in shades?
A.  Remove any possibility of bad color choices
B. Avoid confusion and stress of having to decide which will look better with her sweater and blouse color palette
C. Allow her to still FEEL that she has the POWER to make important..life altering decisions..when in fact she doesn't. Uhhhhhhhhhh..
Well— this may NOT be so accurate a statement because Ru totally talked me in to using the most putrid shade of ROT and threatened to not leave a TIP unless I "did what the CUSTOMER asked" the last time I polished her. Blech..I guess you know who wears the PANTS in this relationship. Please note: will NEVER again cave in and do Sally Hansen, Hard as Nails.. Gangreen #05 for a cheesy .25 cents and a half eaten Rice Crispy Treat.
Granted.. the free fruit and cookies room doesn't offer the same ambiance that the more ritzy shops offer, but what we lack in amenities we make up for in enthusiasm.
ME: Before I start your nail treatment..may I offer you a beverage? Some tea or chilled prune juice perhaps?
Ruth M.: Do you have anything STRONGER?
ME: Nicccccce. Tell me again where you think you are?
Ruth: Well, the OTHER place gives out wine. What kind of cheap joint is this? (Tee hee hee. Tee hee hee)
ME: Fun-ny. Just play along..would ya? May I get you some bananas or..I know. How about some green foil thin free mints? Maybe a few of these freshly baked two-day-old sugar cookies would hit the spot?
It's my feeling as a skilled nail artist that the best experience..my victim..MIL..can have will only happen if she is utterly relaxed. To accomplish this it is of the UTMOST importance to begin with a comfy chair.
"Ru. Come sit here. This looks like it will work." I have found a gently curved, rather firm plastic chair that will do the trick just f-i-n-e..if I fluff up her ski parka and lay it down first.
"Cozy?"
RUTH: Sure. What is this I'm sitting on?
ME: The seat cover.
RUTH: Why are there dirty TISSUES falling out of it?
ME: Maybe that's what they stuffed it with.
Once I get my MIL settled, I begin the inspection of damage done from the LAST polish therapy session and begin the removal of what is left of..
You. Guessed. It.
OPI Almost Virgin.. all the while encouraging the sharing of feelings. This is a very cleansing process..
RUTH: Is THAT what they teach you in beauty school. I don't remember removing polish THAT way when I was a girl.
ME: (pouring Cutex Nail Polish remover into Styrofoam cup): That's beee-cause you weren't up on the cutting edge techniques like we are today. Remember all those COTTON ball fuzzies that would float on to your wet newly painted nails? Well..by using my newly discovered removal trick..say "good bye" to stuck on cotton threads.
I take Ruth's hand and gently shove it in the non-environmentally appropriate container. As I lift it out of the toxic liquid..SHAZZZAMMMM! Wet, drippy..still polished nails. This is where the paper towel table covering comes in handy. Just grab a few of those and wipe off the whole mess. SEE? Ha. It worked.
When painting the nails..to deliver PERFECTION requires absolutely stillness. What this means is..no matter what story Ruth is sharing I must not react or else I will botch the job and have to start over.
RUTH: Harriet shoved me in the elevator when we were coming back from the bus ride so I popped her one. Guess who Irma's sleeping with?
CRIPES! Stick your hand B-A-C-K in the styro foam cup Ruth. Again.
When you are a true nail artist plus SHRINK all rolled into one..you have to expect that the procedure may take upwards of an hour or two. In the end..the nails always look great and all the little "flubs" covered inconspicuously with some very cute little symbol.
RUTH (Admiring my work): They look swell Adrienne.. Except—what's with these white blobs. What kind of DISEASE do I have?
Dear, dear friends of My Sandwich Generation..Sometimes it's not the end result of an action that is so important but the process of the action that delivers the greatest fulfillment for our seniors. Nails looked fantastic. Therapy..brought joy and light heartedness..(snicker snicker). The action becomes the VEHICLE for quality "touch" time together. Who needs a fancy manicure anyway? Cough. (Something in my throat.) Just serve up the tea and cookies and let the conversation run (all over the place). Just one TIP..if you want one. Do what the customer needs..not what YOU need. Next time she can choose MAC Navy Blue.
Tip?
A
Copyright © 2009 My Sandwich Generation. All rights reserved.