Previous Post:
One Track Mind
&nbsp Next Post:
Spring Fling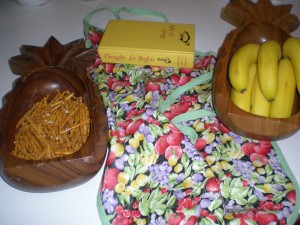 Dear Diary,
Let me ask you.. What do you give the girls that have everything— for Mothers Day? While you're chewing THAT one over, here's the more important question—"What will the girls that have EVERYTHING give me?" Yes me! The always Depends-able, incredibly diligent, always discreet, Daughter-in-law to Ruth (dementia) and Granddaughter to Marnie (reckless electric scooter bound granny).
Now, don't get me wrong. I really have no need for materialistic showering's of affection. But, it's a nice gesture every now and again to receive the token.. "crystal" lucite vase (won at The Bridge Championship, 1975) that has till now, resided in the "end of the hallway" re-gifting closet at Grandma Marnie's. Words cannot describe the delight in being "re-awarded" such an amazing antiquity such as this.
MARNIE (zooming down the hall in scooter): Honey. Come here for a second. I h-a-v-e something for you.
I have come to fear those innocent words. I. Have. Something. Partially because, at least in the last decade..those words are symbolic of the fact that soon, I will be hauling some new acquisition home that will take up MORE space in my "things that can never be donated for guilt and sentimental reasons" pile in the garage (usually on husbands side).
The worst was when I was recently helping Marnie get ready to move out of her home (of fifty years) and into Killjoy Senior Living, motto: if it's not already done..We'll do it to you. I'd spend hours helping Marnie dig through "treasures" that I "MUST take home" with me, because other wise it "will just be thrown out." Yeah..Priceless artifacts, these. Nothing like THAT offer to come a runnin' let me tell you. I can see all us grandchildren bickering and fighting over this little NUTS, BOLTS and SCREWS sculpture of a dude on "the can" reading a newspaper.
"I want it! I've ALWAYS wanted it."
"No, I should have it! I'm the oldest."
"It should go to ME! I had my NAME on it."
Marnie tells me she has loved that bathroom art for years and now it should belong to ME to pass down to my children..and my children's children. Yup. I can see her great-great grand-kids now.. gazing reverently at Nuts and Bolts man, feeling all inspired and contemplative.
"Honey, how about this?"
Well looky here Marnie has an avocado and gold colored gizmo that resembles a bed pa..
"Do you have a need for this "new" crock-pot?"
Ohhhh. THAT'S what that is. Silly me.
"How long have you had that Marnie?" I say, recalling that I may have seen something like this in Leave it to Beaver re-runs or pictured in my ancient Thoughts for Buffets cookbook (circa 1958). "Oh. Maybe a few years. If that." Then the sentimental me starts envisioning, Granny Marnie in her cute little polka dot apron and strand of pearls, making some beef stew with potatoes and carrots, maybe a little onion.. Many decades before I ever existed.
"I never used it. But, I think your mother once brought home her science project in it." S O L D! To the young lady with the sick look of dread all over her face processing knowledge of the nature of MOTHERS school science projects.
I made quite the score that day. I loaded into my car:
2 Portraits (48×600) Hand painted (by monkey) of my Great-Grandparents. Beautiful. Non-likeness, rendering. Estimated value according to Marnie: $5,000.00
2 Lined with tin foil woven reed cornucopias. Marnie Valued: $200.00 each
1 Fish platter (to hold my "CHICKEN LIVER pate") in shape of fish (white stained plastic with colored fins) MV: $450.00
1 Gently scratched and rusted, Bundt Cake pan (which I must have, for when I entertain and make a Bundt cake). MV: at least $175 to replace it at Williams Sonoma
1 Yarn picture that I had made for Marnie when I was 6 years old. MV: Priceless.. "Here (tossing in car window). Take it with you."
Lest you think me a terrible ingrate..
I jumped up and down in excitement the whole way to the car with Scooter Girl following closely to make sure I didn't sneak anything back.
"Thank you Marnie, so much!" I sing, in my gleeful, "I'm going to Disney Land" voice.
"You're welcome dear. May you enjoy those things as much as I did."
You know what our gifts are? Ladies of MY SANDWICH GENERATION? Our gift from our senior family is the joy that we feel every time we make them smile. When we hear the tinkling (pardon the potty ref.) of their laughter and the look of contentment upon their face. We can feel our own fullness through theirs and we all know–there's no better gift than that.
Happy Mothers Day!
A