Previous Post:
Out to Lunch
&nbsp Next Post:
Bridge Ahead 1/4 Mile: Bystanders Will Be PERSECUTED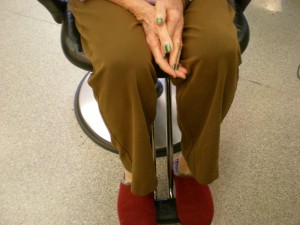 Dear Diary,
In the vast array of crayola crayons in the 500 assortment box, have you ever come across a color called breast fed baby's No. 2, yellow? It's in the mustard family. I want to be perfectly clear from the start.. I watch WHAT NOT TO WEAR and I know better than to EVER purchase any item in this repulsive shade. Imagine my horror as I walked into Ruth's room and there she stood, all.. I'm all that, with hot pink blouse (not a baaaad choice if accessorized well), cocoa-mocha brown cardigan, beige pearls (see… my girl DOES now how to accessorize) and pants a rich hue of..HOLY SAINT JOHN– mother of all knits! What are these? I find myself frantically tugging down the polyester-rayon blended, elasticized waisted, butt ugliest pants I have ever seen. Then I start with the fifth degree..Where did you find these? Who gave these to you? Why did you put these with a pink shirt? I was rattling off questions left and right, all the while pushing Ruth to a sitting position on the bed and yanking them down to her ankles and over her shoes.
Lets look at who these pants REALLY belong to…probably Marion…! "Sure!" I say confidently. These look just like something Marion would throw on, with some puke green neck bowed blouse to finish the look. I have a peek at the label to see what name had been inscribed in marker over it's surface. Behold! In faded, hardly legible "me" font, the name..RUTH! W-H-A-T? That's when it hits me. "Where are your chocolate brown, nice pants that go with that..you know.. brown leopard print pull over?" Pant less Ruth, gets up and shuffles over to her rather full closet (they had a SALE at Penny's, I couldn't HELP myself) and starts searching through the rack with the wrist flick technique of a very well seasoned, professional shopper. Score! Animal print sweater found, and I'll be..It's the SAME color as the previously mentioned nasty pants. Wow! Color coordinated! Looks like the staff has been washing your clothes in LYSOL again granny!
Lovely ladies of my sandwich generation, a few fashion tips from me to you. Buy clothing for your fashion forward senior that is easy to wash and you can afford to have obliterated by over worked staff who don't read labels. Avoid cotton (except for short nighties and other intimate apparel). Say no in fact, to any natural fiber unless you are going to do the laundry (in which case leave me your cell number cuz..I'm just saying..). Most importantly choose pants with elastic waist bands (and I don't need to tell YOU why). Meal time is one big, never-ending food fest; belly expansion (even with all that Wii Golf) is par for the course.
See you on the cat walk!
A