Previous Post:
Pleeeze don't be BLUE!
&nbsp Next Post:
When Bad Clothes Happen to Good People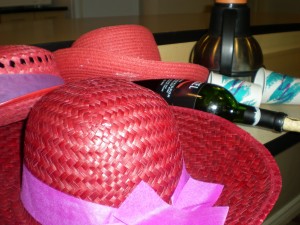 Dear Diary,
It was THAT time of the month again. When the feeling is all– OHHH! NOOO!…Not AGAIN! Loss of appetite, general malaise all because of.. RED-HAT-DAY! I'm not really sure what the whole story is on this greatly celebrated day over at Happy Daze Assisted Living. Something about being old and wearing purple and red and doing whatever you please. I don't actually give a rip, but Ruth and friends have to partake in this monthly ritual, so as advocate I have to "kind of know" what it entails. Because, what happens if it's actually some GIRLS GONE WILD sorority hazing function where you get all dressed in red and don a red hat and do shots of tequila? Then dance to tunes from Madonna's VOGUE CD. I'd feel p-r-e-t-t-y BAD if that's what she was made to do and I wasn't inclu..know about it!
Ruth told me yesterday she can't stand going to Red Hat Day! When I pressed for details, she gave me a very lucid and well thought out answer.."IT'S DUMB!" Hmmm!
Me: Do you want to be more specific?
Ruth: They dress us up in these S-T-T-T-UPID HATS and parade us upstairs and we sit in this noisy room just eating and drinking!
Me: I don't know about YOU Ruth, but I'm thinking, THAT sounds just like grounds for ABUSE charges.. I'll just whip out my cell (there is NO whipping out my cell..it is buried somewhere under all my "NEVER leave home without" stuff) and place a call to the OMBUDSMAN* HOT LINE! Oh look, it's on speed dial…
Ruth: HAHAHAHAHAHAHA …….! I have to find the Ladies Room….NOW! (I always know this is coming when I make her laugh, but I can't help myself)
Ladies rooms are not as fun as they used to be with Ruth. We go in and try to decide if we take door #1, door#2, door #3 or the big one– door #4. We'll take # 3 no, no, no–#4 Jack, for fifty…minutes. In we…(YES, you heard correctly), go. Through are set-up (have to use those seat covers– at least five or six of them) and deployment ritual. I like to exit at this point to give Ruth some privacy to examine the stall decorum. Truth be told, I'm really just standing outside her door peering through the crack giving directions very discreetly. "NOW FIND THE TOILET PAPER RUTH. NO, THAT'S NOT IT!… IT'S TO YOUR RIGHT! NO! THAT'S LEFT! RIGHT! YEAH! GOOD WORK! NOW…" Inevitably some lady walks in and stands there completely befuddled by the display. I don't even bother explaining the whole Alzheimer's thing…
I see Ruth today after the party! All the gang is hanging out, laying on the couch, looking like they knocked back one too many Prune Juice Spritzers…MM-mm! Good! Ruth and I took a little walk to clear her head and I apologized for not saving her from the overly stimulating soiree. I was with the OTHER upper crust part of My Sandwich Generation combo meal..Grandma Marnie. As we walked and talked, I shared some very private thoughts with Ruth regarding my own life and feelings. "Ruth" I say, "I'm going to spill my guts to you." I have her rapt attention now. "I'm BANKING on the fact that you won't spill the beans…because YOU WILL FORGET EVERYTHING I am about to tell you…RIGHT??" Ruth looks at me with a sly smile and says…
S U R E.. I will!
Chow!
A
*OMBUDSMAN Program for all MY Sandwich Generation girl friends, is a group that protects and promotes quality of life for people who live in a licensed, long-term adult care facilities. Your local Ombudsman is a trusted resource in mediating complaints or concerns you may have regarding your eldercare recipient .