Previous Post:
STUCK FOR GOOD
&nbsp Next Post:
ACT YOUR AGE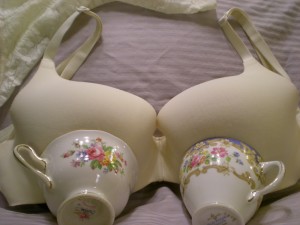 Dear Diary,
I think Marilyn Monroe's measurements were something like 36-24-36. We really can't be 100% sure if the "girls" were enhanced or not, but legend has it that she was just one of those with incredible genetic karma. No stuff, puff or fluff..beauty done naturally. Just like US. Hey. BOTOX is a natural substance.
Ruth is also one of those "natural" beauties. She's never been one to flaunt it in your face, she just quietly works it so that everyone is aware of her "high hottie-ness." Ruth also has never had any (much) work done and let me tell you..there is not ONE woman at Happy Daze Assisted Living who wouldn't give her dentures to look like her. Alzheimer's is extremely inconsequential when you look like..AACK! WHAT ARE THOSE! "Holy Mother of Pam where did these come from?" I'm fixated on two humongous mountains of boobage protruding from Ruth's chest and before I can stop myself, I've got one in each hand.. coping a feel like nobodies business. "What do you have in here?" I say, baffled by what I might possibly find. "I don't know what I have..I don't think anythings any different then what it's been for the last eighty-two years." Uhhh..Believe me, you have never had a 62 inch chest.
Time for you dear mothers of MY SANDWICH GENERATION to have a nice visual. I'm standing in the hallway and Jo and Roger (casually dating) are chillin' on a bench watching the fish do..whatever it is they do. I am reaching down Ruth's Lavender, short sleeve, button down chambray shirt, pulling balled up socks..yes..socks out of her brassiere. One pair, two pairs, three, oh come on.. four.. and that's just on the LEFT. Over on the right (where there usually lives a gel filled prosthetic) is nothing but..one pair, two etc. I'm throwing them on the floor and trying not to experience what the majority of residents do on a regular basis..incontinence, because I'm laughing so hard thus increasing my risk.
After gathering up all the laundry we head back to Granny's abode in search of previously mentioned "filled cutlet" to re-insert back into Ruth's now deflated under-thing. I don't ever remember the game of hide and seek being as challenging as it is when it's "Grandma's" turn to hide. I start with the obvious places..potted plant, pillow case (you never know..maybe she used it to cradle her neck.) and hand bags. I even looked in the garbage can, reasoning that maybe she pulled it out of her bra and thought it was stuffing to keep her bra well shaped and chucked it. "AH HA!" I win! Guess where it was?
I know better than to allow my kids' shirts and pants into the laundry machine without checking the insides for treasures or tissue or ROCKS. Ruth's lovely $250 "treasure" was neatly stashed away in the dirty clothes pile, folded up in..drum roll..a DEPENDS Undergarment bag. Best hiding place EVER.. except maybe the time my little brother Ja..uh, ne-v-er mind.
May your cup always be half FULL!
A