Previous Post:
Flunk YOU.
&nbsp Next Post:
The RAW Untold Story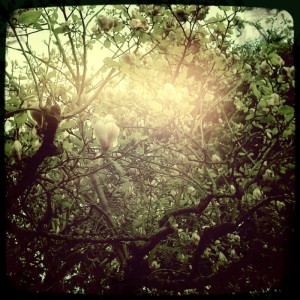 I showed this to my MIL Ru, thinking (or not) that she would totally get a feeling of enchantment and wonder out of the shot. What do you know? She did. Ru held it up really close to her face, studying it from every imaginable angle before exclaiming.. with what I swear were tears glistening in her eyes, "There's something wrong with my glasses. Do you see a big giant splotch of blur in the middle of the bush?"
YES. Exactly what I was going for. Because THAT fuzzy spot Ru is NOT your macular degeneration.. it's a FAIRY. Can't you seeeeee the fairy? She's manifesting herself in the middle of this blooming Magnolia, for only the pure of heart to recognize her true identity.
Where? I don't see a fairy.
(pause)
"You KNOW we have people HERE that can H-E-L-P you."