Straight off the CATWALK in ROAM
Posted 13 years, 4 months ago at 5:24 am. 2 comments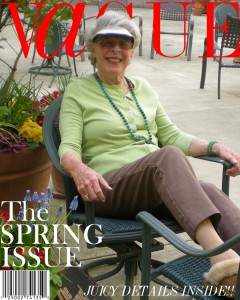 Welcome to V A G U E magazine! Because she's always wanted to be a model..
Hot Trends-Spring 2009
While running pants, hoodies and bodysuites hit the runways at Missoni and Michael Kors- goddess dressing to tempt even the most frugal amongst us hit the halls of Happy Daze Assisted Living- Roam, USA. "You don't have to be a model or have what-do-you-call-it (dementia) to be beautiful." Says our cover model Ruth. "All you need is a good personal shopper or my daughter-in-law, who has good taste to do all the work for you."
THE UGG
For go the stiff and structured for a slouchy shuffling slipper with plenty of room for your corny feet
SHIN SCRAPPER TROUSERS
Combine the notice-me power of revealed shins in high-water pants (hot water treatment) in soft, more neutral palettes the more down to earth tones of beige and nude, colorations that have become a must have in every assisted living facility across the Nation.
A FRESH TAKE ON SWEATER DRESSING
A strong shoulder (think Wii tennis) is accentuated positively in a softer shape and brighter color.
The woman of today need no longer worry if she spills her cream of chicken soup down her front. The everything blends nicely sweater is a must.
THE CUFF
Not too big, but big enough to see with bad vision- slip on a delicate stretch elastic cuff that's heavy on the plastic bling to punch up your day look and carry you right on through the whole entire night.
BEADS
Not your mothers jewelry, the longer strand faux jade makes even the most simple look pop. Wear it layered with the like or on it's own.. nobody will ever believe they're not real.